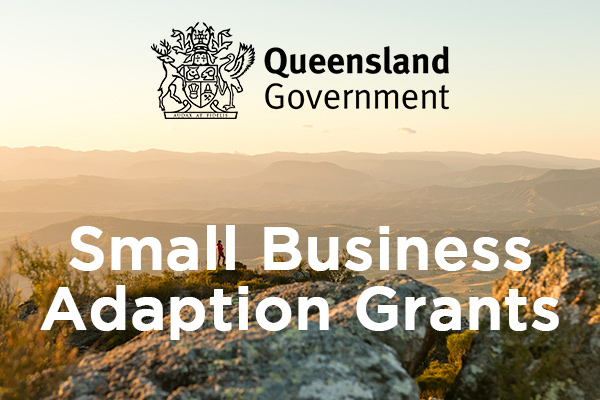 Small Business Adaption Grants Round 2
Max $10,000 grants available to help businesses counter the impact of COVID-19
Posted on 29.06.2020
Round 2 opening 1 July 2020
The Queensland Government is extending the Small Business COVID-19 Adaption Grant Program. As part of Stage 2 of Queensland's Economic Recovery Strategy – Unite and Recover for Queensland Jobs, up to $100 million is being made available to deliver a second round of grants, with half of this funding specifically earmarked for regional small businesses located outside of South East Queensland.
Round 2 will open on 1 July 2020.
The objective of this program is to support small businesses subject to closure or highly impacted by the coronavirus (COVID-19) shutdown restrictions announced by the Queensland Government, to adapt and sustain their operations, and build resilience.
The available grant amount is a minimum of $2,000 and up to a maximum of $10,000 per eligible small or micro business and can be used towards the following:
financial, legal or other professional advice to support business sustainability and diversification
continuing to meet business operational costs including utilities, council rates, rent, telecommunication charges, insurance fees, licensing or franchise fees
strategic planning, financial counselling or business coaching aligned to business development and diversification
building the business through marketing and communications activities (e.g. content development – web pages, mobile apps, visual and audio media etc.)
digital/technological strategy development
digital training or re-training and up-skilling employees to adapt to new business models
capital costs associated with meeting COVID-19 safety requirements
specialised digital equipment or business specific software to move business operations online (e.g. logistics program for online ordering).
Note: Grant funds can be used towards any of the above activities occurring from 23 March 2020 onwards, keeping in mind the project must be completed within a maximum of 6 months from the date of approval.
Round 2 will open on 1 July 2020.
For more information about the grants or advice on your application, please contact the Small Business Hotline on 1300 654 687 or email adapt@desbt.qld.gov.au