Queensland's Nature-based Outdoor Economy
The economic contribution of Queensland's nature-based outdoor recreation sector
SkillsIQ commissioned Marsden Jacob Associates to conduct a study to better understand the impact of the nature-based outdoor recreation sector on Australia's economy. A quantitative evaluation was conducted to establish a picture of this sector, covering both participation across activities and also the economics of the sector in relation to employment, expenditure, and Gross Value-Add (GVA).
The findings of the research are being released through individual reports specific to each state and territory.
To access the Queensland report, please click the button below.
Headline Numbers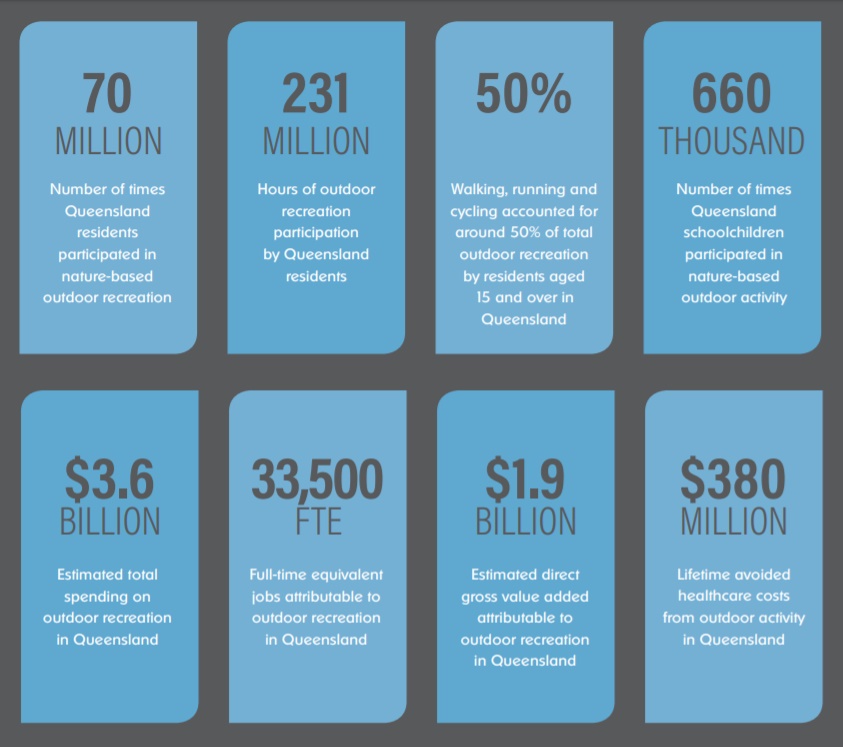 Many people in Queensland say our nature-based, outdoor oriented lifestyle is a key part of the state's quality of life and social character. However, viewing nature-based outdoor activity merely as a leisure or lifestyle issue can obscure its economic importance.
This report shows that Queensland's nature-based outdoor activity sector is a larger part of Queensland's economy than most of us realise. Around $3.62 billion is spent each year on nature-based outdoor activities in Queensland. This expenditure makes a $1.94 billion contribution to the state's economy and supports around 33,500 direct and indirect full-time equivalent jobs. Many nature-based outdoor activities support regional economies by shifting expenditure from urban to regional towns and cities and rural areas. …
Until now, an overarching and consistent picture of Queensland's nature-based outdoor activity sector – covering participation by activity and the contribution of Queensland's outdoors industries to our economy and communities – has been missing.
---
The reports establish an important body of evidence which underpins the importance of ensuring the development of a skilled workforce to support participation in nature-based outdoor activities.
Read More
For further information, contact Liz Horne at SkillsIQ on (02) 9392 8100.
The SkillsIQ Team