Kayaking: Tips & Resources
A collection of useful and interesting resources if you'd like to get out on the water in a kayak
Kayaking is the use of a kayak for moving across water. It is distinguished from canoeing by the sitting position of the paddler and the number of blades on the paddle. A kayak is a low-to-the-water, canoe-like boat in which the paddler sits facing forward, legs in front, using a double-bladed paddle to pull front-to-back on one side and then the other in rotation. Most kayaks have closed decks, although sit-on-top and inflatable kayaks are growing in popularity as well.
Source: Wikipedia
Useful Contacts
Related Articles & Information
Catch the Wave: How to Get Started with Surf Kayaking
If you're an adrenaline junkie always searching for the next water sport to conquer, then surf kayaking should be on your radar. Blending the best of surfing and kayaking, this thrilling activity allows you to ride the waves in a whole new way. In this guide, we'll dive into what surf kayaking is, explore the different types of surf kayaks, and share essential tips to get you started. So, let's paddle out and catch some waves! Read more
Source
Sophia Monroe
Water Sports Living
Parts of a Kayak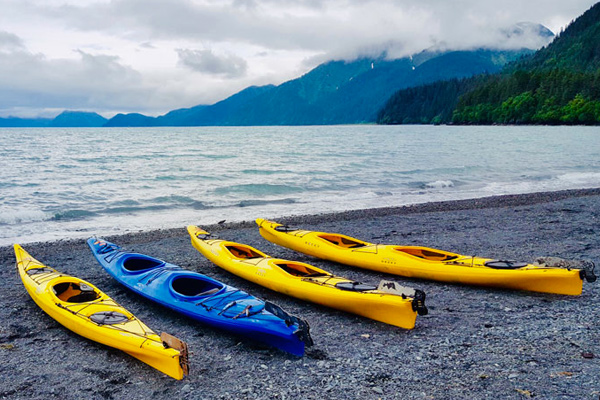 Source: Cool of the Wild
Do you know the anatomy of a kayak? For anyone new to kayaking, the technical jargon can be a lot to take on. Even experienced paddlers may not know their bow from their stern or a scupper from a coaming.
But why is it important to know the different parts of a kayak anyway? Like all outdoor equipment, from hiking backpacks to canoes, not all kayaks are made the same. Some are best for riding rapids, while others are designed to cover long distances or move quickly. Knowing the basic parts of a kayak and the parts of a kayak paddle will help you choose the best kayak for you.
In this article, Cool of the Wild breaks down and explains the basic parts of a kayak.
Types of Kayaks: A Visual Guide (Plus the Pros and Cons of Each)
A Visual Guide (Plus the Pros and Cons of Each)
Source: Cool of the Wild
The best thing about kayaking is its versatility as an adventure sport. With the right types of kayaks, you can venture alongside dramatic ocean coastline, paddle for miles on picturesque canals, spend a day on a tranquil lake, or tackle white water rapids. Some kayaks are built for speed, while others are designed for stability, manoeuvrability, for playing in the ocean surf, or for covering long distances. Some are made to sit inside while others are made to sit on top. Some fold to a convenient travel size while others are inflatable. You don't have to paddle alone either because you can opt for a tandem kayak or a family-sized kayak.
With so many options, it's no wonder that picking the right kayak for you feels like a challenge. If you're buying your first kayak, or you're looking to upgrade, there are lots of factors to consider. To help you make the right choice, we've put together a guide to the different types of kayaks on the market today, including the best use for each type of kayak and their pros and cons.
Read More
Kayak Camping Gear & Packing Guide
Ultimate Guide to Kayaks
The Kayak Guru (US) buyer's guide on how to choose a kayak!
Contents
Portable Kayaks: Folding vs Inflatable Kayak
What are the pros and cons of a folding vs inflatable kayak? And which is best for me?
Source
Cool of the Wild
Top 5 Health Benefits of Canoeing and Kayaking
Kayaking is a beautiful way to escape those overcrowded gyms. After a while, you will also see that you can exercise your spiritual and mental side as well as you're physical. Not only is kayaking (and canoeing) a fantastic solo sport, but it's also great to do it with partners or friends and make it a social event which helps to build a sense of community between you all.
Source
Nature Sport Central
Kayaking with Kids (How to Guide)
We all know children love to play in the water, and a further progression for them can be having fun on the water. The best way to do this is by teaching them Kayaking. From early ages, they can see the fun that can be had and the places they can explore.
Source
Nature Sport Central
Kayaking Stretches
The Health Benefits of Kayaking
Ten Places to Kayak on the Sunshine Coast
Peace and tranquillity…the only sound…your paddle slicing through the calm water as your kayak glides quietly along the glassy surface of a winding river. If kayaking in the wilderness, embracing the sounds of nature is your idea of heaven, these ten kayaking destinations are sure to get you on your way.
Kayaking the Mary River
Kayaking the Mary River
See Outdoors Queensland members who provide kayaking activities in Discover
(search on 'Kayaking / Sea Kayaking' in Activity)