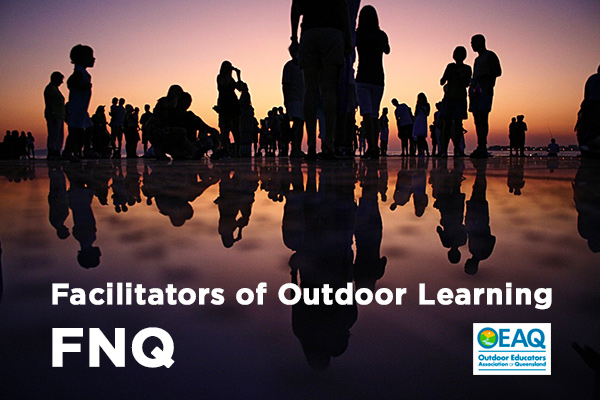 FOOL's Forum FNQ
FNQ Facilitators of Outdoor Learning


Dec
02
2023
to
Dec
02
2023
Region

Far North Queensland / Cairns

Start

8:15 am

Finish

4:00 pm

Cost

Member. $50 (OEAQ)
Non Member. $100
covers forum, resources, food.

Host

Contact

Darren Osmond

Phone

0427 330 946

Email

Web
Why:
The Facilitators of Outdoor Learning (FOOL's) Forum is an opportunity to network while sharing strategies & knowledge relating to facilitating outdoor learning. Whether your teaching focus is outdoor education or recreation, personal development, outdoor pursuits, commercial, tourism or environmental education, the forum sessions will be an opportunity to share, learn and meet new people. Attendees are encouraged to contribute in a somewhat informal manner – bring your experiences, observations and ideas and be ready to share them with others.
Who: Anyone who is running activities with groups outdoors.
Where:
Holloways Beach Environmental Education Centre
46 Poinsettia Street
Holloways Beach, QLD 4878
Find on Google Maps
Draft Program:
8:15am Arrival & Registration, Networking, Caffeination.
8:30am Opening – Housekeeping. Introductions. Overview of FOOLS & OEAQ, OEA update, Outdoors QLD Update.
9:30am Session 1 (90 minutes) – Choice of A. Marine Education Activities (Practical) OR B. Other session TBA
11:00am Morning Tea / Networking
11:30pm Session 2 Critical Incident Scenario (all)
1:30pm Lunch / Networking
2:30pm Session 3 (30 minutes) – Choice of A. Irukanji Indigenous Perspectives OR B. Water games
3:00pm Whole Group Discussion / Circle Time —open mic session, whiteboard questions.
3:30pm Navigation challenge for major prizes, FOOLs photo, certificates, lucky door prizes.
4.00pm Closing formalities, networking & drinks (BYO).
Prizes throughout day provided by the OEA major sponsor, Equipped Outdoors.