From left: Ray Buchanan, Dawn Carnell, Mark Squires, Rebecca Burch, Charlee Collins and Dom Courtney.
Back to About Us
Executive Officer
and Company Secretary
Dom Courtney
Dom joined Outdoors Queensland in September 2015. Previously, Dom worked as recreation coordinator at Seqwater, as a property officer at Caboolture Shire Council and Moreton Bay Regional Council, and in the world of construction before that. Dom's experience with Seqwater gives him an understanding of the issues facing the outdoor recreation sector, particularly in regard to access to places and increasing opportunities.
Other than a stint working at a gold mine in Papua New Guinea in the 1990s, Dom has lived in Queensland his entire life – moving as a child from Brisbane to the Darling Downs, to Longreach and then to a small town near Mackay. Dom has worked in Townsville, Mt Isa, the Sunshine Coast and Brisbane. The end result is a proud Queenslander (who can become slightly obsessed during State of Origin season each year).
Dom enjoys bushwalking, camping, motorbike riding and, more recently is getting into the wonderful world of mountain biking
In 2003, he took time off work to combine these activities into a motorbike trip around Australia, camping and bushwalking along the way – a terrific way of exploring this beautiful country.
"an adventure that recharged and focussed my entire being"
Contact
eo @ outdoorsqueensland.com.au
0419 976 800
Download: Business Card
Operations Manager
Mark Squires
Mark has had a varied career – first working in the entertainment industry as a stage manager and set designer in the theatre, as a lighting designer and for nine years in his own business, Connections Event Management, which specialised in producing theatrical styled events for the corporate sector.
He first worked in the outdoors as a ski patroller at sixteen and before joining Outward Bound New Zealand worked as a freelance guide and rock climbing instructor in Australia. In 1999 he joined Outward Bound New Zealand as an instructor and he has been passionate about personal development work ever since. After almost five years as the Deputy Director for OBNZ he moved to Outward Bound Hong Kong as Director.
His other outdoor interests include rockclimbing, mountaineering (expeditions to three 8000 metre peaks: Everest, Makalu and Shishapangma), sailing (including co-building a 40 foot racing catamaran), tramping and cycling.
Over the last few years he  has been further developing his interest in working in personal development and has gained certification in Life Coaching, NLP, Training and Business.
In July 2019, Mark celebrated 10 years working with Outdoors Queensland. The Executive Officers Mark worked with during his time; Donna Little (2008 – 2013), Murray Stewart (2013 – 2015) and current EO, Dom Courtney (2015 – present), shared a few thoughts …
read more
markwsquires.com – more about Mark
Contact
operations @ outdoorsqueensland.com.au
0480 289 572
Download: Business Card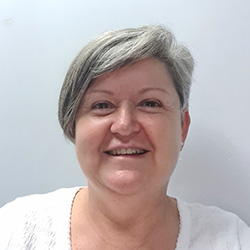 Office Manager
Dawn Carnell
Dawn joined Outdoors Queensland in Nov 2021 and comes to us with a diverse background across a few industries.  She has a strong administration background with 15 years in general admin roles and another 15 years in HR roles within the IT industry and community organizations like Esk Shire Council and Multicap.  She felt like a sea change in 2007 and moved from Brisbane to the Sunshine Coast.  She completed a Cert IV in Outdoor Recreation that same year and then worked in the industry as an Outdoor Rec Instructor with several providers until late 2011 when she returned to Brisbane and HR roles.  In 2017 Dawn had a career change following a redundancy and started driving buses for Brisbane City Council and enjoyed driving a 15m bus around the suburban and city streets of Brisbane before joining us.
 Dawn loves her pets and is a part time dog trainer, she enjoys gardening and is mad about Succulents; her phone camera roll is usually full of both of these.  She loves nature, she kayaks, cycles, bushwalks and enjoys camping with family and friends; and her dog as well whenever she can come too.
Contact
admin @ outdoorsqueensland.com.au
0417 494 706
Download: Business Card
Marketing & Communications Manager
TBC
Program Manager
Angela Wright OAM

Angela's extensive experience in local government recreation and sport enabled her to grow her passion for planning, delivering and advocating for better outdoor recreation places, spaces, programs and services. A short stint in Sport and Recreation Qld projected her into the outdoor recreation policy area which greatly assisted in her return and ongoing career in local government. Angela worked for 17 years for Redland City Council in the City Spaces Group until her semi-retirement in 2017. She continued her voluntary work with Nature Play Qld (Nature Play Spaces Program) until 2019 when she returned to full timework to fill the enormous shoes left by Hyahno Moser, Program Manager for Nature Play QLD.
In 2022, Angela was recognised in the Australia Day Honours List with an Order of Australia Medal for her service to sport and outdoor recreation.
Contact
programs @ outdoorsqueensland.com.au
0488 171 383
Download: Business Card
Outdoors for Life Program Coordinator
Sarah Hartley
Sarah is an avid outdoor enthusiast and has extensive outdoor industry experience. She has worked in the industry since 2007 as an educator, instructor and guide delivering diverse programs and training to a range of clients including children, adults and specialist groups. She holds qualifications in Outdoor Recreation and Training and Assessment.
Sarah is passionate about the empowering benefits that the outdoors brings to individuals, families and communities and she is driven by a desire to advocate for the outdoors as a catalyst for health and wellness. Sarah's recent study of a Bachelor of Public Health (Health Promotion) has consolidated this and she is passionate about the outdoors as a basis for preventative health interventions.
Contact
outdoorsforlife @ outdoorsqueensland.com.au
0483 819 744
Download: Business Card
Project Officer
Imogene Whittle
Imogene has extensive experience managing and coordinating projects, programs, industry membership organisations and large events, as well as developing and leading strategic marketing and initiatives.
Prior to Outdoors Queensland, Imogene lead the Nature Play QLD's Marketing from 2015. She has spent over five years in the youth arts sector, in peak body organisations that provided member support and industry advocacy: Imogene was Manager of Young People and the Arts Australia and then Creative Director of Youth Arts Queensland.
Imogene holds a degree in Business (Management, Creative Industries Management, Japanese and PR).  As a graduate, Imogene first worked in international business corporations, such as Accenture. She most relishes her current work that makes a meaningful contribution to the world, enriches young lives, and supports long-lasting positive change.
Contact
project @ outdoorsqueensland.com.au
0423 257 697
Download: Business Card