Cycling
Cycling is the use of bicycles for transport, recreation, or for sport.
Cycling is widely regarded as a very effective and efficient mode of transportation optimal for short to moderate distances. Bicycles provide numerous benefits by comparison with motor vehicles, including the sustained physical exercise necessarily involved in cycling, that cycling involves a reduced consumption of fossil fuels, less air or noise pollution, much reduced traffic congestion, easier parking, greater manoeuvrability, and access to both roads and paths.
Source: Wikipedia
What can and can't cyclists do on the road?
It's important for all road users to be up to speed with the rules, especially when cyclists are involved.
According to Bicycle Queensland, when it comes to crashes between cars and bikes, research shows motorists are at fault nearly 90 per cent of the time. Just to clear things up we've taken a look at the rules and put together a quick quiz to test your knowledge.
And just a note — these are Queensland laws we're talking about, so it may differ slightly in other parts of the country.
Queensland Cycling Strategy 2017-2027
The Queensland Government has released the Queensland Cycling Strategy 2017-2027.
The strategy sets the direction for encouraging more cycling, more often throughout Queensland over the next 10 years. It is accompanied by an Action Plan and Queensland State of Cycling Report, which will be updated every two years to help prioritise effective action and respond to changes that impact cycling in Queensland.
The new strategy is about supporting those who ride and those who want to start riding by making traveling by bike a safer and more comfortable option.
The State of Cycling report will also be published every two years to track the progress of achieving the vision of more cycling, more often.
Cycling Resources
About Cycling, Cycling Benefits, Bike User Guide, Bikeway Maps, Cycling Events, Research and Safety Resources …
Cycling Grants (Queensland Government)
The Bicycle Riding Encouragement Program (BREP) community grants provide financial support for activities that help to increase the number of people who regularly ride a bike.
To get more people cycling more often, cycling needs to be accessible and safe, with facilities that encourage new riders, women and children. The Cycle Network Local Government Grants Program aim is to accelerate the delivery of cycling networks and encourage more cycling across Queensland.
The Benefits of Cycling
Maintenance
Bike Maintenance
Whether you're rolling around on a top-of-the-range machine or a family heirloom – bikes are all fairly simple devices that deliver the same simple pleasure.
Learn more about choosing, adjusting and maintaining your bike here.
See also: Bike cleaning
Essential bike maintenance tips everyone should know
Even the most inexperienced cyclists know you can't ride a bike with two flat tires, no brakes, a janky chain, and pieces that are a bump or two away from scattering across the pavement. If you're not taking care of your ride, you risk disappointment and disaster every time you hop on the saddle.
Don't worry if you're not an expert mechanic—there are basic steps you can take before each trip that will ensure smooth cycling wherever you are. Not every component is high-maintenance—some parts only need attention after you've logged long miles. And at the end of every year with your trusty two-wheeler, it's worth considering a checkup from a professional. Learn More
Source: Popular Science
When the spirits are low, when the day appears dark, when work becomes monotonous, when hope hardly seems worth having, just mount a bicycle and go out for a spin down the road, without thought on anything but the ride you are taking.

Arthur Conan Doyle.
90 Best Cycling Quotes To Motivate You
Related Articles & Useful Resources
Getting Started: Top Cycling Tips for Beginners
Are you thinking about getting into cycling? It's a fun sport, with plenty of different disciplines. Whether you want the thrill of navigating your way through a downhill trail or the competitive excitement of a street race, cycling has plenty of options to keep you fit, healthy, and entertained.
This post unpacks some basic tips for newcomers to cycling. Read in Full
Source: Athlos
Top 18 cycling routes in Queensland
Cycling in Queensland is one of the most enjoyable ways to explore more of this part of Australia. So you can find your perfect Queensland bike ride, we've reviewed our full collection of cycling routes in the region to deliver the top 20. Just click on each route to see a full breakdown of detailed information including elevation profiles and surface analyses, and browse real tips and photos uploaded by other members of the komoot community.
Cycling Boom puts focus on keeping riders safe
An explosion in bicycle sales during the coronavirus (COVID-19) pandemic has renewed the focus on keeping cyclists safe.
"It is very important to look ahead to the future and ensure we can provide a safe and encouraging environment for people to enjoy riding, whether that be for the simple pleasure of riding with family and friends, or as a means of transport or commuting"
Bike Lane Design Guidelines
Bicycle lane designs have been evolving rapidly in recent years, in response to increased
participation rates and the realisation that there needs to be increased emphasis on improving the safety and experience of on-road bike riding for cyclists of all capabilities to better meet community needs and expectations, while increasing bicycle use.
The guidelines cover the following on-road bike facilities:
Kerbside Physically Separate
Double Chevron
Single Chevron on Parking Side of Bike Lane
Single Chevron on Traffic Side of Bike Lane
Simple Bike Lane
Shared Traffic-Bike Lane
Six alternate intersection treatments (covering physically separated bike lanes/separation through traffic signal phasing/roundabouts)
Source
City of Melbourne
E-bikes and the Impact on Off-road Cycling
While traditional bike technology is likely to continue to stabilise, the rapid emergence of the E-bike is likely to have a profound impact on off-road cycling. As technology improves the bikes will become a much more common feature on trails, making cycling activities more accessible to more people. Being able to cycle at higher average speeds, cover longer distances and ride up hills more easily makes e-bikes an attractive option for recreation and commuting.
Source
Treadwell
Recipe for a cycling environment
Study shows the supercharge of ebikes

Ebikes are replacing cars and increasing the time people spend riding, a study of ebike users in North America has found.
Why we need a national Ride2School program
More than two-thirds of Australian school students are driven to school, even though their parents understand the importance of riding and walking shows new research.
Bicycle Network lifts the lid on helmet survey
Bicycle Network lifts the lid on helmet survey
A survey of almost 20,000 people has found that nearly two-thirds don't believe you should have to wear a helmet every time you ride a bike in Australia.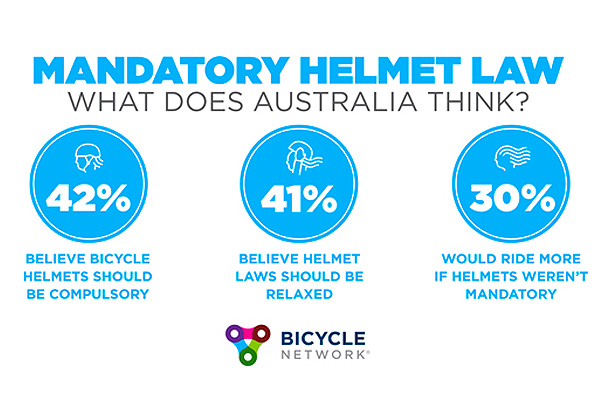 The Amazing Way Bicycles Change You
The Amazing Way Bicycles Change You
People take to their bikes …
… when we make it safer and easier for them
The latest national cycling participation data, released in June this year, show the proportion of Australians cycling has fallen significantly since 2011. This is bad news for health and wellbeing, and for the economy as well.
However, our recent research shows some exceptions to this trend, in places where safe cycleways have been built.
How to prevent your bike from being stolen
Even a basic bicycle for travelling between work and home can be expensive, so it's no surprise that bikes are a popular target for thieves.
So what are the best ways to help prevent yours from being stolen? Whether it's at home or away, this guide should help you keep your bike more secure
See also:
Australian Bike Vault
National Bike Register
Road Toads & Pedalphiles
Mythbusting the reasons why people hate cyclists
Their lights are too bright, they don't have lights; they ride on the line, they ride on the road; they ride too fast on footpaths, they ride too slow in traffic; they don't wear helmets, they do wear lycra.
New Electronic Bike Helmet
Cyclevision … devised the 'smart helmet'' featuring video streaming technology to give riders advance warning of impending collisions.
"Bicycle riders are vulnerable road users, and the number of cyclists hospitalised as a result of road incidents nationally has been increasing by about four per cent each year, but with enough warning, a cyclist may be able to take the necessary action to avoid a collision, especially with vehicles approaching from behind and this smart Cyclevision helmet is a great solution"
Drivers are overwhelmingly at fault in collisions with cyclists — should we assume they are liable?
To keep our cyclists safe, it may be time to adopt the approach of many European nations by introducing legislation that, in civil cases, presumes that car drivers caused a collision unless there is evidence to the contrary.
Helmets Reduce Risk of Serious Injury
A major study of bike helmet use around the world from more than 64,000 cyclists has found helmets reduce the risks of a serious head injury by nearly 70%.
The compulsory wearing of bike helmets in Australia has long been a source of frustration for some cyclists, who argue it reduces participation rates. Previous studies have indicated helmet use encourages risk-taking behaviour or does not reduce serious injury to the brain.
Outdoors Queensland is a proud supporter of Cycling Brisbane
Check out the Riding in Brisbane guide, showcasing key riding locations and routes across the city, plus essential information and resources.
Discover
See Outdoors Queensland members who provide mountain bike & cycling activities in Discover
(search on 'Cycling' or 'Mountain Biking' in Activity)
Recommend a Resource
Have an interesting or useful resource or link to share?
Let us know by Recommending a Resource