Trail Development
Active Trails
Active Trails
A Strategy for Regional Trails in South East Queensland
Recreation trails range from urban bicycle paths to canoe trails on rivers to rugged hinterland trails which, when combined, can provide for activities including walking, horse riding, cycling, driving, canoeing/kayaking and trail bike riding. Use of recreation trails by residents and visitors has quantifiable benefits in physical and psychological health, social and environmental terms. Research from Australia and overseas shows significant tourism and economic benefits derived from recreation on trails. These benefits include expenditure in rural and regional areas, return visits and increased overnight stays by domestic and international tourists.
Active Trails Draft Implementation Guidelines
The Draft South East Queensland Active Trails Implementation Guidelines were developed to assist local governments, trail planners and community groups to plan and develop a network of regional, district and local trails.
Contents
 Introduction
Background
Trail planning
Trail design and construction considerations
Trail management and maintenance
Australian Walking Track Grading System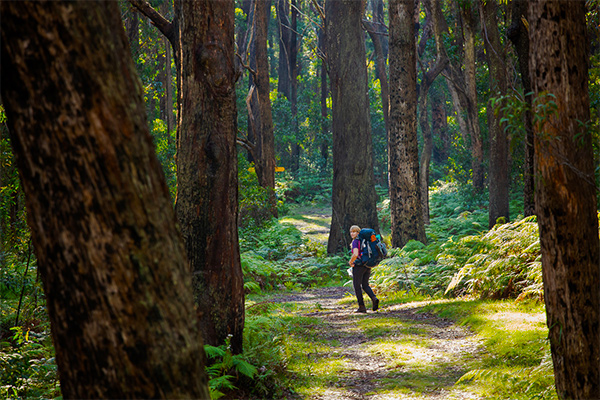 Ben Blanche
The AWTGS classifies tracks into 5 grades, based on the Australian Standard for walking track construction (AS 2156). It was funded and developed by a Victorian Government initiative, in partnership government agencies and non-government groups across Australia.
Full User Guide:
Australian Walking Track Grading System
Quick Reference
 Grade 1
No bushwalking experience required. Flat even surface with no steps or steep sections. Suitable for wheelchair users who have someone to assist them. Walks no greater than 5km.
 Grade 2
No bushwalking experience required. The track is hardened or compacted surface and may have a gentle hill section or sections and occasional steps. Walks no greater than 10km.
 Grade 3
Suitable for most ages and fitness levels. Some bushwalking experience recommended. Tracks may have short steep hill sections a rough surface and many steps. Walks up to 20km.
 Grade 4
Bushwalking experience recommended. Tracks may be long, rough and very steep. Directional signage may be limited.
 Grade 5
Very experienced bushwalkers with specialised skills, including navigation and emergency first aid. Tracks are likely to be very rough, very steep and unmarked. Walks may be more than 20km.
Full User Guide: Australian Walking Track Grading System
Related & Interesting Articles
Design a trail to last 100 years
We plant trees for our grandchildren to enjoy, why should we expect any less of the trails we build?
The challenges of balancing ecological protection, physical management and social demands on natural surface hiking, equestrian, mountain biking and multi-use trails can be overwhelming. However, it is possible to meet these challenges by designing sustainable trails that are created to last into the next century.
Breaking Down the Silos
A metaphor for working cooperatively toward our many common goals
"Breaking Down the Silos," is a metaphor for how we can wall ourselves off by being single-minded about our own silo, or area of focus. This has happened to many of our organizations over the years. But by breaking down these metaphorical silos, we can work cooperatively toward our many common goals within the trails community. The greatest of these common goals is making sure everyone has access to that most important of things, their ability to recreate— to re-create themselves.
It's critical to personal health, community health, and the overall economic health of our nation. Where would we be without trails? It's hard for me to imagine. Let's rededicate ourselves to building our trails infrastructure, in a way that avoids inadvertently taking away any person's, or any group's, access to trails and the recreation opportunities that trails provide.