Mountain Biking
Riding mountain bikes off-road, over rough terrain
Riding off-road, often over rough terrain, using specially designed mountain bikes.
Mountain bikes share similarities with other bikes, but incorporate features designed to enhance durability and performance in rough terrain.
Mountain biking can be performed almost anywhere from a back yard to a gravel road, but the majority of mountain bikers ride off-road trails, whether country back roads, fire roads, or singletrack (narrow trails that wind through forests, mountains, deserts, or fields)
Read More
Mountain biking can generally be broken down into multiple categories: cross country (XC), trail riding, all mountain, downhill,freeride, slopestyle, dirt jumping, and trials. The vast majority of mountain biking falls into the recreational XC,Trail Riding and Enduro categories.
This individual sport requires endurance, core strength and balance, bike handling skills, and self-reliance. Advanced riders pursue steep technical descents and, in the case of freeriding, downhilling, and dirt jumping, aerial maneuvers off both natural features and specially constructed jumps and ramps.
Mountain biking can be performed almost anywhere from a back yard to a gravel road, but the majority of mountain bikers ride off-road trails, whether country back roads, fire roads, or singletrack (narrow trails that wind through forests, mountains, deserts, or fields). There are aspects of mountain biking that are more similar to trail running than regular bicycling. Because riders are often far from civilization, there is a strong ethic of self-reliance in the sport. Riders learn to repair their broken bikes or flat tires to avoid being stranded miles from help. Many riders will carry a backpack, including a water bladder, containing all the essential tools and equipment for trailside repairs, and many riders also carry emergency supplies in the case of injury miles from outside help. Club rides and other forms of group rides are common, especially on longer treks. A combination sport named mountain bike orienteering adds the skill of map navigation to mountain biking.
Source: Wikipedia
Mountain Biking Guide to Queensland Parks and Forests
Mountain Biking Guide to Queensland Parks and Forests
Riding can be a part of any Queensland holiday. Hit the trails in
the morning, and then spend the rest of the day discovering more
of the state's authentic and inspiring destinations.
Park Rangers, volunteers, clubs, local councils and contractors are
at work to create and maintain world-class mountain biking
opportunities in Queensland's parks and forests. Long-term
protection of the environment goes hand in hand with creating
great trails for you to enjoy. (Download the Guide)
Mountain Bike Australia
Mountain Bike Australia Mountain Bikers Code of Conduct
Click to download
QLD MTB Strategy
QLD MTB Strategy

Mountain Bike Australia received funding through the Qld Government's Sport and Recreation Planning Program to develop a mountain bike Strategy for Queensland.  Stakeholder and community consultation was integral to the development of the Strategy and included consultation with riders, clubs, trail care alliances, land managers, state and local government authorities.
The Strategy provides a high level document to re-enforce and support future investment decisions and strengthen advocacy for the development of mountain bike trail networks and supporting infrastructure.
Read the complete document to gain a full understanding of the objectives, methodology, recommendations and outcomes.
News Stories & Related Articles
Mountain Bike Safety and COVID-19 (IMBA)
Love your local trails
"It's great to see more people outdoors discovering how vital trails are for our communities. As mountain bikers, we can lead by example for responsible riding and sharing trails with others, including new users who may not be familiar with generally accepted rules of the trail. Please be kind and patient. It always feels better to pedal away from a friendly encounter than a conflict." (David Wiens, IMBA Executive Director)

Read Full Article
Source: IMBA
Bikepacking North Stradbroke Island
The Ultimate Brisbane Bikepacking Trip
A new article published by We Are Explorers on the bikepacking North Stradbroke Island. This two day cycle around North Stradbroke Island, which the local Quandamooka people know as Minjerribah, gives you major bang for buck. Plus you only need public transport to get there!
Source: We Are Explorers
E-bikes and the Impact on Off-road Cycling
While traditional bike technology is likely to continue to stabilise, the rapid emergence of the E-bike is likely to have a profound impact on off-road cycling. As technology improves the bikes will become a much more common feature on trails, making cycling activities more accessible to more people. Being able to cycle at higher average speeds, cover longer distances and ride up hills more easily makes e-bikes an attractive option for recreation and commuting.
Source
Treadwell
New Caloundra mountain bike trail is the Beez Kneez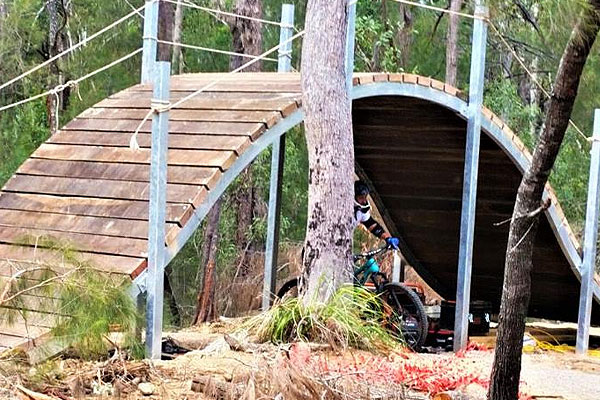 Opening today (December 8, 2018), the new Beez Kneez black-diamond mountain bike trail in Caloundra is set to entertain locals and visitors alike with its unique features.
Minister for Sport Mick de Brenni said this was a mountain bike trail built for riders by riders, with local riders and trail builders Trailworx leading the construction team.
"The Beez Kneez trail is unique, with gravity flow trails, two major gravity generators, three wall rides, jumps, multiple timber skill features and a step-up finish.
NQ Mountain Bike Forum
The NQ Mountain Bike Forum was held on Thursday, 26th April, 2018 at the Riverview Tavern, Douglas (Townsville) and was attended by a range of interested stakeholders. Dom Courtney from QORF and Denise Cox from MTBA co-hosted the evening.
Topics for Discussion
National MTB Guidelines
Queensland MTB Strategy
Australian Adventure Activity Standards
Trail etiquette
Adaptive MTB
MTB Destination Planning
E-bikes
SEQ Mountain Bike Forum
SEQ Mountain Bike Forum Report
A report compiled following the forum held on Thursday, September 7, 2017 Blackstone Bushland Centre Castle Hill Blackstone Reserve, Ipswich
Topics for Discussion
Recent developments in MTB in SEQ
Measuring participation
User Code of Behaviour
Strategic planning
MTB Australian Adventure Activity Standards
Trail construction/maintenance updates and construction standards
E-bikes
Scott Bowden trains in Italy

Check out Scott Bowden taking his mountain bike for a spin as he trains at the AIS European Training Centre in Italy on the Road to Rio. Bowden proved he was one of Australia's top riders when he claimed the overall 2014/15 National Series title. He went on to win both the Australian and Oceania U23 titles in 2015 before finishing just outside the top twenty in U23 World Cup events in Canada and Italy.
From Crashing to Confidence
"The front wheel jacknifed, my forks bottomed out and SLAM went my head and right shoulder into a solid earth berm. SNAP went my collarbone."
"The force of the hit nearly knocked me out. I clearly remember seeing stars. Snapped a couple of ribs and a thumb, too. The next day this yellow bruise appeared over my shoulder blade all the way up to my ear."
It was a very tough 'ah ha' moment for Chris Carter, but it has lead him down a path which has changed his riding and now thousands of others who have become devotees of his online mountain bike skills program "The Groover Method".
He currently has over 86,000 subscribers on his YouTube channel MTBTips.com and it's growing.
RESPECT Yourself, Others and the Environment
Discover
See QORF Green Circle Members who provide mountain bike riding activities in Discover
(search on 'Mountain Bike Riding' in Activity)
Recommend a Resource
Have an interesting or useful resource or link to share?
Let us know by Recommending a Resource